Season's greetings to all iSpotters!
Season's greetings to all iSpotters! - UK and Ireland : [upload-images-LittleGrebe_140.jpg] How many species have been observed on Christmas Day? Which species has been seen most often on New
Going out to watch wildlife probably isn't top of everyone's list of activities for Christmas Day, but if you can find time for a winter walk there's plenty to be seen. Since iSpot started in 2009, over 100 different species have been observed on Christmas Day itself. You might not be surprised to learn that one of the most frequently observed species on the day is ... the traditional Christmas Robin! But in fact, the Robin is tied in first place with five other species, and these are a much less predictable mix of birds and fungi:

Each of the above has been observed three times on Christmas Day over the years, within the iSpot data. The top Christmas day species from other groups include Muntjac Deer and Grey Squirrel for the mammals, Mottled Umber moth among the invertebrates, and Ash Tree and Hart's-tongue Fern from the plants.

New Year's Day is a much more popular day for seeing lots of species - perhaps people are getting their year lists off to a good start, or just enjoyng getting out into the fresh air after the previous evening's celebrations. Well over 300 different species have been seen on New Year's Day, according to the iSpot observations, and there is an outright winner: Long-tailed Tit, with six observations. Another six species have five observations each, and the list is completely different to the Christmas Day winners:

Looking at all the iSpot observations made between Christmas Eve and New Year's Day across the years, they include a grand total of over 800 species! (The most frequently-observed species for this whole period is the Velvet Shank fungus.) So even though we are in the depths of winter, and daylight is in short supply, there's still lots of wildlife out there to be found - see what you can discover over the coming weeks with the help of iSpot.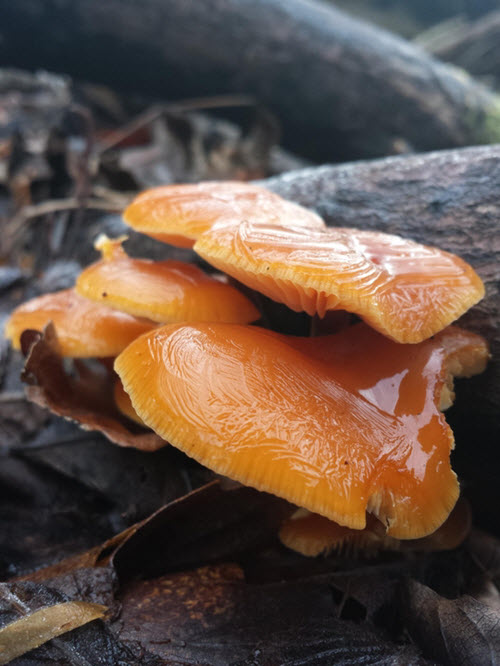 Velvet Shank fungus by rohanalmond
As always, many thanks to everyone who has participated on iSpot during 2014. It's been another busy year for people adding and identifying observations on the site, and of course there have been some major changes to iSpot itself, with our summer redesign and the recent merge with our southern African community. No doubt there are still some bugs to be ironed out, and rest assured that we will continue to make improvements and adjustments where we can during the coming year, with the help of your feedback and comments.

Happy Christmas and New Year!
22 Dec 2014
Martin Harvey
Main navigation