National Biodiversity Network reaches 100 million records
National Biodiversity Network reaches 100 million records - UK and Ireland : [upload-images-NBN_logo_140.png] The NBN Gateway now has over 100 million records! iSpot is one among the many individuals, recording schemes and records centres who have cont
The National Biodiversity Network Gateway has grown rapidly, from its prototype beginnings when 100,000 records were available in the late 1990s, to 20 million records in 2006, 50 million in 2010 and now to a staggering 100 million species records from across the United Kingdom, making it one of the biggest wildlife databases in the world.

The 100 millionth species record is of a Two-spot Ladybird (Adalia bipunctata) and is part of a dataset of more than 17,000 records from the National Trust's Wimpole Estate in Cambridgeshire. Simon Damant, Forester at the Wimpole Estate, says: "The hundreds of veteran trees in the park and woods are especially important as they support so many rare insects and fungi. Two of my favourites are the rare Devil's Bolete toadstool which can be found under old oak trees and the Golden Hoverfly which comes to ivy flowers in the autumn."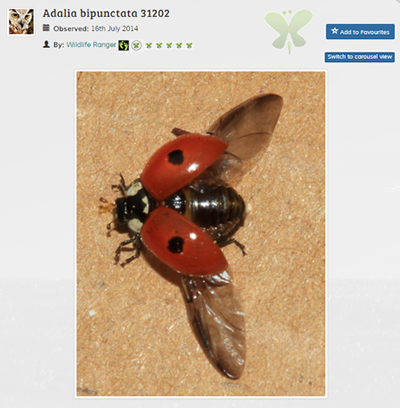 The data on the NBN Gateway comes from the dedication and commitment of amateur and professional experts across the UK, who painstakingly record the species they see. The NBN Gateway allows anyone who is interested to look and investigate the distribution of these species on maps and to download information.

Users range from naturalists interested in the distribution of particular species, government agencies monitoring changes in populations of threatened or non-native species, researchers using data for analysis and the general public interested in the wildlife in their local area.

Observations on iSpot are passed on to recording schemes for the various different species groups, and from there make their way on to the NBN Gateway.

NBN Gateway facts
There are c. 44,000 species with records on the NBN Gateway
The species with the greatest number of records is the Meadow Brown butterfly (Maniola jurtina), with 839,866 records
One of the oldest records on the NBN Gateway is of Red Deer (Cervus elaphus) in 1512, supplied by the Cumbria Biodiversity Data Centre
Two-spot Ladybird has been adversely affected by the arrival of the invasive Harlequin ladybird and has declined by around 40%, since its arrival in Britain in 2004
The NBN Gateway is a website of the National Biodiversity Network (NBN), a collaboration of organisations committed to making wildlife information, collected by volunteer naturalists and environmental and conservation organisations, freely available on the internet.
11 Sep 2014
Martin Harvey
Main navigation