Using maps and filters to customise iSpot
Using maps and filters to customise iSpot - UK and Ireland : See everyone's observations on a map
See everyone's observations on a map
To see the map of iSpot observations click on the "Explore community" menu at the top of the page, and choose "Observations - Map". This will show the latest 2,000 observations from the iSpot community that you are linked to. If you want to see more than 2,000 observations on the map you can do so by clicking on "Show more observations" (but note that the more observations you add to your map, the longer it will take to load - if you are only interested in a particular geogrphic area, zoom in to that area first before you start adding records to the map).

You can also filter the observations to see the ones you are interested in. Click on "Filter community observations" and you will see a window that allows you to choose a set of observations. There are filters for:

species groups (Filter by group)
species names (Filter by taxonomy)
for whether or not the observations have a Likely ID (e.g. you can choose to look at observations without a Likely ID to see if you can help identify them)
and so on:

You can add as many filters as you wish, and then click on "Apply filter" to see the resulting map. The filter setting does not get saved - if you want to save a particular map filter you need to use the "Your View" option, see below.

Set up a map in Your View with a custom filter
First of all, click on the user menu (the one at the top-left of the page, headed with your user name) and choose "Your View". The map that is shown here gets saved as the "Your View map", so the first thing to do is to zoom the map to the area of the world that you are interested in. Then click on the "Filter your view" button. A window opens up that is similar to the one shown above for filtering the main iSpot map, but this time there are some extra options so that you can save your own set of filters.

Choose the filters for species group, date etc. as described above, but if you want to save this set of filter choices you need to give "Your name for this filter" in the box at the bottom of the filter list. Now click on "Apply filter" - this will apply the current filter settings to the map that you are now looking at, and it will also save the filter settings under the name you gave it, so that you can choose the filter again in future, from the "Your saved filters" list at the top of the filter window: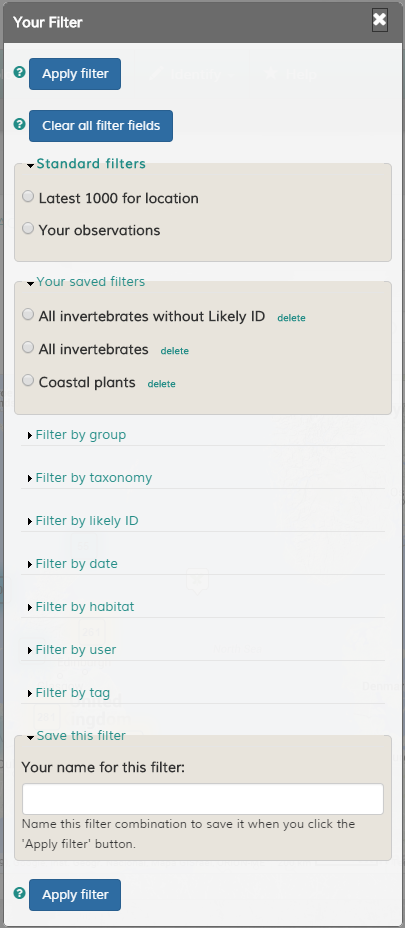 22 Dec 2011
Martin Harvey
Main navigation