Taking part in the iSpot quizzes
Taking part in the iSpot quizzes - UK and Ireland : Below is information about the new quiz feature on iSpot. If you have any questions that aren't covered here, or if you notice any problems when using the quiz, please add your comments to the iSpot quizzes forum (or use the iSp
Below is information about the new quiz feature on iSpot. If you have any questions that aren't covered here, or if you notice any problems when using the quiz, please add your comments to the iSpot quizzes forum (or use the iSpot contact us form).

How do I access the iSpot quizzes?
Go to the "Identify" menu at the top of the page and choose "Try a quiz". If you are logged in the results of your quizzes will be saved and you can see what progress you are making. If you are not logged in you can still try out the quizzes, but iSpot will not be able to save your scores.

Choosing a quiz
Click on one of the species group icons to select the species group you want to be quizzed on – "Birds", "Mammals", "Invertebrates" etc. Then click on one of the numbered stars to choose how difficult you want the quiz to be, from 1 (Easy) to 5 (Expert).

Questions at the easiest level are mostly multiple-choice, and make use of species from the same Class of organisms (so you are likely to be choosing a correct answer from among species that are very dissimilar). For the middle levels you get some multiple-choice questions (but this time showing species that are more closely related), and some where you have to provide the name yourself (picked from the iSpot species dictionary). For the hardest level you are always asked to provide the name yourself, rather than choosing from multiple-choice options.

If you get stuck on a question, don't worry – there are "lifelines" available! These are hints at the answer. A question answered using a lifeline scores only half a mark. There are three lifelines available at the easiest level and none at the hardest level.

Types of question
There are three types of question available (depending on what difficulty level you have chosen).

A: One image shown, choose the correct species name from four options
Note that each photo in the quiz has a button in the lower right-hand corner – click on this to expand the image to a larger size. This will also enable you to see if there are additional photos that will help you identify the species shown.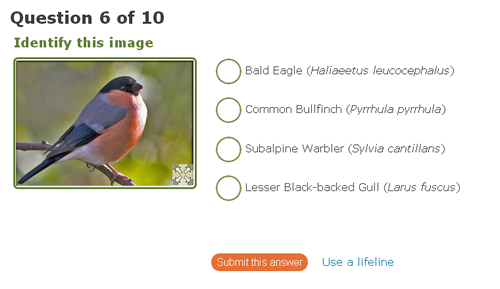 B: One species name shown, choose a matching image from four options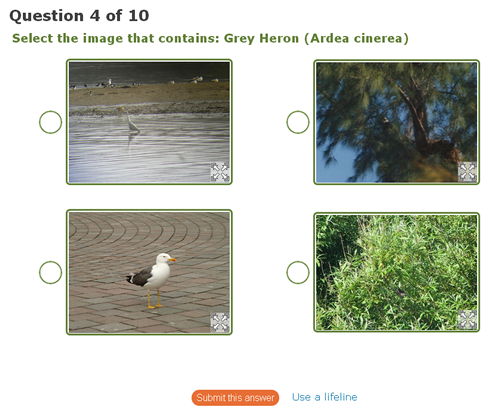 C: one image shown, type in (part of) a species name to specify the correct identification
In this question format, you can start typing a name into the box and you will see a list of matching names from the iSpot species dictionary – click on the name that you think is the correct identification. Note that you must pick a name off the list - if you just type it in without clicking on the list you will not get the correct answer, even if you type in the correct name!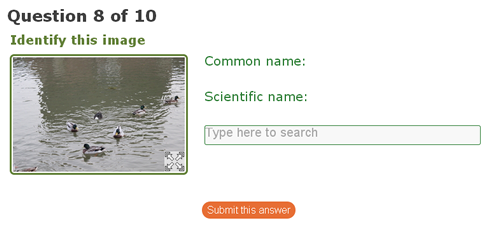 Personalise your quiz
If you are logged in on iSpot, you will see an extra option to "Personalize your quiz". Click on this and tick the box – iSpot will then try to select questions based on your involvement in iSpot. It does this by looking for species that are within the same genus as species you have already observed, determined, or agreed with. (But if there aren't enough observations available among the ones you have interacted with on iSpot, questions will be drawn from the complete set as usual.)

The results
As each question is answered, you can see whether your answer is the one that iSpot expects. If not, iSpot's expected answer is shown, and for multiple-choice questions the identification of each alternative is also revealed. The 'correct' answers are based on the Likely IDs that have been given to the observations on iSpot, and in some cases you may not agree with iSpot's decision! Or you may feel that the particular photo being shown in the quiz does not provide enough detail for an identification to be made. If so, click on "Dispute this answer" and let us know what the problem is. (If several people dispute the same photo it is automatically removed from the pool of photos that iSpot draws on for the quizzes.)

Quiz scores
You'll receive one mark for each correct answer you give (or a half mark if you have used a lifeline). At the end of the quiz, you'll see a chart which shows how your result compares to other iSpot users.

22 Jul 2013
Martin Harvey
Main navigation