The Great British Year
The Great British Year - UK and Ireland : Welcome to The Great British Year on iSpot! [upload-images-BBC_Great_British_Year_350.png] We hope you are enjoying
Welcome to The Great British Year on iSpot!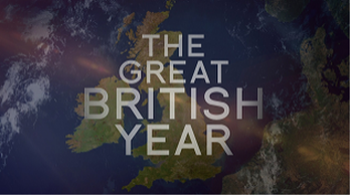 We hope you are enjoying The Great British Year on BBC One, and you are invited to join the iSpot community to share your wildlife observations throughout the seasons.

The Great British Year portrays the spectacular and dynamic nature of our country over the course of one year. This four part series, supported by The Open University, runs on BBC One from Wednesday October 2nd at 9 pm.

To accompany the series, the OU's Open Media Unit has produced a poster that encourages you to observe the different seasons. On the poster there are images of plants, animals and fungi with suggestions of four to look out for each month. Click here to order your free poster and find out more from the OU.

About iSpot – your place to share nature
iSpot is a website aimed at helping you learn about the wildlife around you. On iSpot you can share your interest with a friendly community, take a look at the latest spots, add your own observations, join in discussions and get help identifying what you have seen.

What happens on iSpot?
You can browse thousands of observations from other users and once registered you can add your own, suggest an identification yourself or see if anyone else can identify what you have seen.

You can also help others by adding identifications to their observations, which you may like to do as your knowledge increases. Your reputation on the site grows as people agree with your identifications.

Visit our help pages for further information on how to register, post an observation, and more.

iSpot and The Great British Year
The TV series and poster encourage you to observe the different seasons. On the poster there are four species to find each month, taking a photo if you can to share with the iSpot community. By using iSpot to record the observations you have made, you will contribute to a seasonal data set that will build throughout the year. You can also browse through other people's observations, and help identify them, as well as see the top ten species for each season.

What else can you do on iSpot?
Take your learning experience further with The Open University
On OpenLearn, the OU's home for free learning, you can also discover more about nature and The Great British Year. OpenLearn will be collecting together all the seasonal observations of the organisms featured on this poster and giving you more information as the year progresses. You will also be able to explore some of the data generated by observations posted to iSpot.
07 Jan 2013
Martin Harvey
Main navigation