ERICAS of the Cape Peninsula -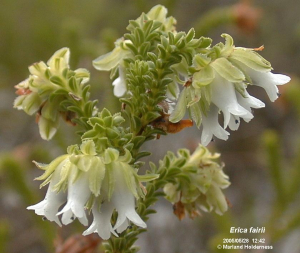 ERICAS of the Cape Peninsula - - Southern Africa : With SANBI going a different route I thought it would be nice to share my pics taken on the Cape Pen
With SANBI going a different route I thought it would be nice to share my pics taken on the Cape Peninsula.
Initially the project will be of my own observations,
In time, possibly, I'll include obs of some other iSpotters where the ID's have been verified. But I don't want a collection of unidentified observations.
Quite often Ericas need more than just a pretty picture.
Remembering the support I received from Ross Turner and the friends who helped me with ID's.
Not forgetting Inge & Ted Oliver's Field Guide that was with us wherever we went, and support from Ted himself with some of my queries.
https://www.amazon.co.uk/Field-guide-Ericas-Cape-Peninsula/dp/1919684239
14 Nov 2017
marlandza
Main navigation