Crassulaceae of the Southern Cape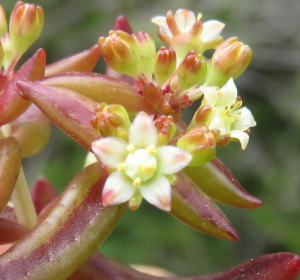 Crassulaceae of the Southern Cape - Southern Africa : Crassulaceae are herbaceous or shrubby succulent plants that are mostly perennial. The leaves are usually opposite, the flowers are bisexual, regular (rarely zygomorphic and the inflorescence cymose. With 130 species, Crassulaceae is ranked 20th of th
Crassulaceae are herbaceous or shrubby succulent plants that are mostly perennial. The leaves are usually opposite, the flowers are bisexual, regular (rarely zygomorphic and the inflorescence cymose.

With 130 species, Crassulaceae is ranked 20th of the largest families in the Cape Flora. 5 Genera are found in this region: Tylecodon; Adromischus; Crassula; Cotyledon and Kalanchoe.

The aim of this project is to show the diversity of this family found in this area and to help us with identifications.
24 Jan 2016
Nicky vB
Main navigation