Euphorbiaceae of the Southern Cape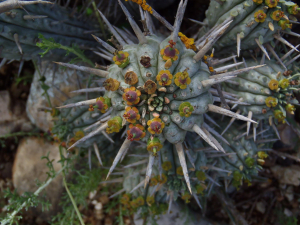 Euphorbiaceae of the Southern Cape - Southern Africa : Euphorbiaceae can be trees, shrubs or herbs, often with milky juice. The leaves are usually simple, flowers are unisexual and regular. Ovary is superior and fruit usually a capsule. The genera found in this area are: Acalypha; Adenocline; Clutia; Cten
Euphorbiaceae can be trees, shrubs or herbs, often with milky juice. The leaves are usually simple, flowers are unisexual and regular. Ovary is superior and fruit usually a capsule. The genera found in this area are: Acalypha; Adenocline; Clutia; Ctenomeria; Dalechampia; Euphorbia; Jatropha; Excoecaria and Leidesia.

The family also includes the alien, Ricinus.

The purpose of this project is to help identify the genera and species found in this area within this family.
24 Jan 2016
Nicky vB
Main navigation