Riverbend Crocodile Farm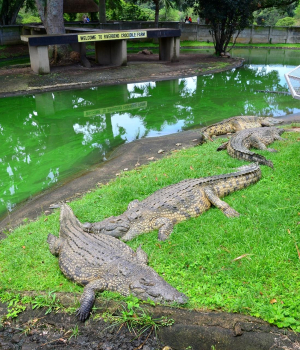 Riverbend Crocodile Farm - Southern Africa : Riverbend Crocodile Farm in Southbroom was officially opened in 1981, with a small number of crocodiles obtained from a farm near Victoria Falls in Zimbabwe. It is now home to over 200 adult Nile Crocodiles as well as many juveniles of various sizes. Each
Riverbend Crocodile Farm in Southbroom was officially opened in 1981, with a small number of crocodiles obtained from a farm near Victoria Falls in Zimbabwe. It is now home to over 200 adult Nile Crocodiles as well as many juveniles of various sizes. Each year about 4 500 hatchling crocodiles are also produced.

An education centre provides detailed information on the life-cycles of crocodiles as well as the day-to-day workings of the farm.

Due to popular demand, a Snake House was opened in 2003, which is home to some of Africa's deadliest snakes.
31 Dec 2015
Igmar
Main navigation