Odonata of Mgobezeleni Catchment and surrounds, Sodwana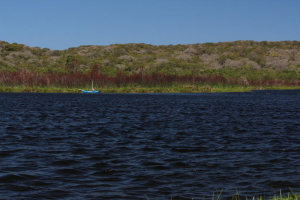 Odonata of Mgobezeleni Catchment and surrounds, Sodwana - Southern Africa : A broad range of wetland habitats (swamp forest, floating islands of sedges, sandy lake shores, reed beds, estuary, water-lily ponds, forest-fringed lakes, peat bogs, seasonal pans and moist grassland) all within ~8km of Sodwana results in a broad range o
A broad range of wetland habitats (swamp forest, floating islands of sedges, sandy lake shores, reed beds, estuary, water-lily ponds, forest-fringed lakes, peat bogs, seasonal pans and moist grassland) all within ~8km of Sodwana results in a broad range of dragonflies and damselflies.

Click on the tabs above to view the observations and map.

Species list so far (39 species from 98 observations):

GOMPHIDAE
Ictinogomphus ferox
Lestinogomphus angustus
Paragomphus cognatus
Paragomphus genei

AESHNIDAE
Anax imperator subsp. mauricianus
Gynacantha usambarica
Gynacantha sp.

MACROMIIDAE
Phyllomacromia contumax

LIBELLULIDAE
Acisoma variegatum
Aethriamanta rezia
Brachythemis leucosticta
Chalcostephia flavifrons subsp. flavifrons
Crocothemis erythraea
Crocothemis sanguinolenta subsp. sanguinolenta
Hemistigma albipuncta
Nesciothemis farinosa
Orthetrum julia subsp. falsum
Orthetrum trinacria
Palpopleura lucia
Rhyothemis semihyalina subsp. semihyalina
Tetrathemis polleni
Tramea basilaris
Tramea limbata
Trithemis annulata subsp. annulata
Trithemis arteriosa subsp. arteriosa
Trithemis hecate
Trithemis stictica
Urothemis edwardsii subsp. edwardsii

LESTIDAE
Lestes sp.

CHLOROCYPHIDAE
Platycypha caligata subsp. caligata

PROTONEURIDAE
Elattoneura glauca

COENAGRIONIDAE
Agriocnemis falcifera subsp. falcifera
Agriocnemis sp.
Ceriagrion glabrum
Ischnura senegalensis
Pseudagrion coeleste subsp. umsingaziense
Pseudagrion hageni subsp. tropicanum
Pseudagrion kersteni
Pseudagrion massaicum
24 Dec 2015
Robert Taylor
Main navigation