Mapping the distribution of a flightless beetle of conservation concern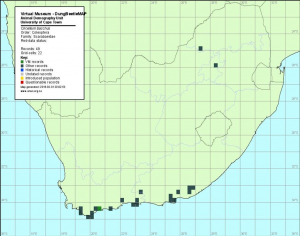 Mapping the distribution of a flightless beetle of conservation concern - Southern Africa : The Cape Flightless Dung Beetle (Circellium bacchus) is a large species that is considered a relict from aeons past. It is better known as the Addo Flightless Dung Beetle, since there is a large and well-publicised population of the species in th
The Cape Flightless Dung Beetle (Circellium bacchus) is a large species that is considered a relict from aeons past. It is better known as the Addo Flightless Dung Beetle, since there is a large and well-publicised population of the species in the Addo National Park. That name is, however, a misnomer: this beetle species is also present in small, fragmented populations all along the southern Cape coast, west of Addo. Therefore I have proposed the common name 'Cape Flightless Dung Beetle'.

The Scarab Research Group of the University of Pretoria has been studying many aspects of Circellium bacchus for several years. Those include the distribution and conservation needs of the species. They did extensive surveying to locate the remaining populations of this species. The map below is the known distribution of the beetle according to their records, plus the records of this species in the South African National Collection of Insects, plus the records in the Ditsong National Museum of Natural History, as rendered by the Animal Demography Unit (ADU, UCT).

See how these three sources have accumulated as few as 49 usable records over more than a century, two of which are obviously screamingly wrong. The iSpot map of today has 23 records, accumulated by citizen scientists in about four years. The iSpot records are much more detailed and data-rich than the old museum records. Compare the iSpot map with the ADU map..

Furthermore, I have a hunch that the iSpot community contributed a number of records of persisting populations that were not recorded (or discovered?) by the Scarab Research Group or any collector of the two collections noted above, which happen to be the two largest and most comprehensive beetle collections in Africa, both older than 100 years. I must, however, first look at the maps very attentively to confirm my hunch.


Don't overlook the dark blue tabs above. ► Click on 'Observations Map'. That is the iSpot map.
The map below is the ADU map with everybody else's data.
18 Dec 2015
Riaan Stals
Main navigation