Dying plants in the fynbos, South Africa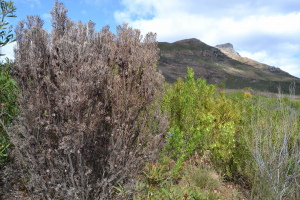 Dying plants in the fynbos, South Africa - Southern Africa : The purpose of this project is to create a database of dying plant reports in the fynbos. With your contributions, we can learn about plant disease in the fynbos, ultimately benefiting the conservation of the biodiversity in the biome. Sampling will be co
The purpose of this project is to create a database of dying plant reports in the fynbos. With your contributions, we can learn about plant disease in the fynbos, ultimately benefiting the conservation of the biodiversity in the biome. Sampling will be coordinated for each report to determine whether Phytophthora species are involved. Phytophthora is a group of microscopic organisms that cause disease in plants. In Greek: Phyto = plant, phthora = destroyer. Phytophthora cinnamomi is one species known to be present in the fynbos, causing root rot of many plant species in the Proteaceae. Join us in the hunt for pathogens like Phytophthora cinnamomi. You could discover a species that has never been found or studied before!

This project is part of Cape Citizen Science. By reporting the dying plants that you see, you will be contributing to research about plant disease! You be the scientist! More information at http://citsci.co.za

Join us in the first phase of the project! To report a dying plant, add the tag dyingfynbos to the observation.

Please do not hike off-trail in National Parks - please be respectful of park policies.
03 Nov 2015
jmhulbert
Main navigation