Blaauwberg Nature Reserve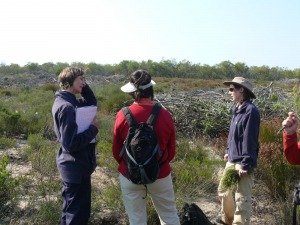 Blaauwberg Nature Reserve - Southern Africa : To highlight the species found on this new Cape Town nature reserve. The Blaauwberg Nature Reserve was proclaimed in 2007. It has 7 km of rocky and sandy shoreline. It encompasses Blouberg Hill (231 m) with Swartland Shale Renosterveld (Critically En
To highlight the species found on this new Cape Town nature reserve.

The Blaauwberg Nature Reserve was proclaimed in 2007. It has 7 km of rocky and sandy shoreline. It encompasses Blouberg Hill (231 m) with Swartland Shale Renosterveld (Critically Endangered - on Malmesbury Shale), with its WWII radar site (and overnight accommodation). On the landward side it is predominantly Cape Flats Sand Fynbos (Critically Endangered - on leached (acidic) Tertiary Sands), which is the historical terrain of the 1806 Battle of Blaauwberg, which marked the second British occupation, and the end of Dutch rule in the Cape. On the seaward side, Cape Flats Dune Strandveld (Endangered - on alkaline beach dunes) with its dune landscape extends to the beach, and contains shell middens dating 15 000 years with evidence of human activity. The southeastern corner encompasses a wetland - Blaauwberg Vlei.

Some 624 plant, 40 mammal (including whales, dolphins and seals), 166 bird, 30 reptile and 4 amphibian species have been recorded in the area.

Currently 1445 ha, it is expected to conserve about 2000 ha when consolidated, allowing the stocking of larger game.

Blouberg Hill offers magnificent view of Table Mountain and Robben Island World Heritage Sites.

More:
https://www.capetown.gov.za/en/EnvironmentalResourceManagement/Pages/NatureReserve-Blaauwberg.aspx
http://www.bca.org.za/files/
https://www.capetown.gov.za/en/EnvironmentalResourceManagement/Documents/Integrated_Reserve_Mngt_Plans_FINAL/Blaauwberg_IRMP_Jun2011v02_Final.pdf
29 Sep 2015
Tony Rebelo
Main navigation