Intaka Island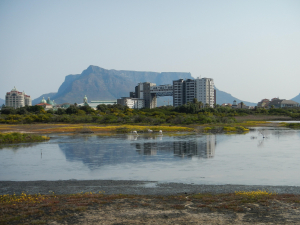 Intaka Island - Southern Africa : Background: When the development of Century City began in 1996, the 250-hectare area was largely covered by invasive alien vegetation (mainly Port Jackson acacias) and a number of degraded wetlands. A large number of water birds used one of these wetland
Background: "When the development of Century City began in 1996, the 250-hectare area was largely covered by invasive alien vegetation (mainly Port Jackson acacias) and a number of degraded wetlands. A large number of water birds used one of these wetlands and the surrounding flooded vegetation as a breeding site.

In the environmental impact assessment (EIA) which preceded development, it was recommended that a multi-purpose nature reserve be created in the centre of Century City. The Century City property developer decided to do this, both as a contribution to conservation and to create an attractive and functional wetland for the Century City environment." http://intaka.co.za/about-intaka-island

"There are 213 species of indigenous plants (plants of Sand plain fynbos) that can be found on Intaka Island, many of which produce attractive flowers from late winter to early summer. Twenty-four of these plants are on the Red Data list, that is, they are rare and threatend with extinction." For a list of plants see: http://intaka.co.za/doc/Intaka%20Island%20Plant%20List.pdf

Aim: This project aims to discover, monitor and identify the natural vegetation occurring at Intaka Island, with special focus on plants listed on the Red Data list.
14 Sep 2015
B van Dyk
Main navigation