Milnerton Vlei & Zoar Park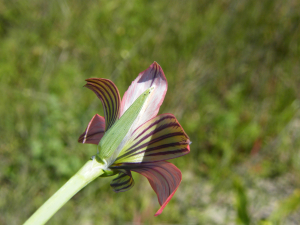 Milnerton Vlei & Zoar Park - Southern Africa : No particular purpose except that it is a rather neglected bit, so I have chosen Romulea obscura as its emblem. Don't know what's there, but hopefully this will let us find out. Zoarvlei Wetland is situated between the Paarden Eiland Industrial Centre
No particular purpose except that it is a rather neglected bit, so I have chosen Romulea obscura as its emblem. Don't know what's there, but hopefully this will let us find out.

Zoarvlei Wetland is situated between the Paarden Eiland Industrial Centre and the suburbs of Rugby and Brooklyn.
Most of the 140 hectare wetland is a dense mat of tall reeds, with a small stretch of open water near Brooklyn Chest Hospital. In 2010, it was granted conservation status by the City of Cape Town. Klein Zoar, Wolraad Woltemade's house overlooks the Paarden Eiland wetlands. Famously On 1 June 1773, Woltemade, on his horse, rescued 14 sailors onboard the sinking ship, De Jonge Thomas, but tragically lost his life in a further attempt to rescue others. Theoreticlly the vlei debauches into the Salt River, but due to urbanisation this is no longer the case.
27 Jun 2015
Andrewm
Main navigation