Biodiversity of Klein Slangkop Estate - Kommetjie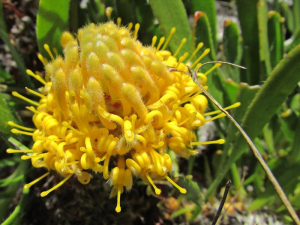 Biodiversity of Klein Slangkop Estate - Kommetjie - Southern Africa : This project will soon be moving in its entirety to iNaturalist The remainder of observations made i
This project will soon be moving in its entirety to iNaturalist
The remainder of observations made in this area between 2014 and 2018 will be uploaded onto iNaturalist over the upcoming months
Klein Slangkop Estate, Kommetjie, harbours natural remnants of Endangered Peninsula Sandstone Fynbos and Endangered Cape Flats Dune Strandveld.
Several species of concern are present in this natural area, including Protea scolymocephala (Vulnerable), Serruria glomerata (Vulnerable) and Leucospermum hypophyllocarpodendron subsp. hypophyllocarpodendron (Vulnerable). Others are likely to be present and not all plant species have been documented to date. The invertebrate, vertebrate and other fauna remain almost completely unexplored.
This project will allow residents, locals and other interested parties to observe the natural biodiversity found in this small, yet strikingly rich, conservation area. All observations logged within the boundaries of Klein Slangkop will show up in this project. All you need to do is make sure that the locality of your observation is clearly marked on the map.
Disclaimer:
The boundaries marked on the map are approximate and have been extended in parts slightly beyond the physical boundaries of the Estate in order to capture a little of the surrounding biodiversity.
09 Mar 2015
Lee Jones
Main navigation