Alien invader that destroys earthworms by eating them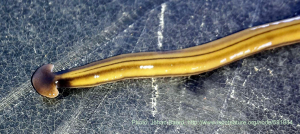 Alien invader that destroys earthworms by eating them - Southern Africa : This project compiles the localities from where the invasive Spade-headed Planarian (Bipalium kewense) has been reported on iSpot sA. This alien invasive flatworm is thought to be native to Southeast Asia, but it is now presen
This project compiles the localities from where the invasive Spade-headed Planarian (Bipalium kewense) has been reported on iSpot sA.

This alien invasive flatworm is thought to be native to Southeast Asia, but it is now present also in Europe, Australia, the Americas and southern Africa. It is unknown exactly where in southern Africa it is present, making this project a research tool driven by citizen science.

Click on the dark blue tab "Observations Map" above to see the observations map.
In the 2011 book 'Alien & Invasive Animals. A South African Perspective', edited by Mike Picker & Charles Griffiths, the South African distribution of the Spade-headed Planarian is indicated only roughly by a blotch over Gauteng and a blotch over the south-westernmost Western Cape (p. 202). Compare iSpot's records to that.

The eventual impact of this invader is unknown, but feared. It is spread around mostly through human movement of soil, such as in horticulture and along with potted plants. These flatworms are voracious predators of earthworms, and there is no known method of control. While they have the ability to eradicate earthworm populations in worm farms, it is yet unclear whether they will move into untransformed habitats. There is already indication of the latter possibility among the existing iSpot observations.
15 Feb 2015
Riaan Stals
Main navigation