Grasses of the Cape Peninsula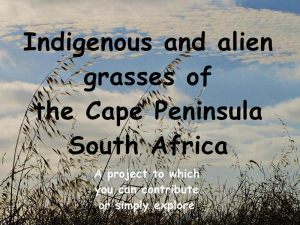 Grasses of the Cape Peninsula - Southern Africa : Note: This project is now available and updated as a guide on iNaturalist: https://www.inaturalist.o
Note: This project is now available and updated as a guide on iNaturalist:
https://www.inaturalist.org/guides/7873?sort=alphaname
Updates to observations and taxa will be on iNaturalist as they become available and this project will no longer be updated or curated here.
Grass species are notoriously under-reported - especially in the Fynbos-rich southwest. This is an early attempt to get to grips with grasses on the Cape Peninsula. I would like to eventually expand and link this to other projects that document grasses in regions, micro-regions or relatively small areas (e.g. Cape Flats, City of Cape Town, Cedarberg, etc.) where folks are actively iSpotting in the hope that they too will begin to take more interest in the grasses.
iSpot projects are presently not indexed or accessed by Google searches "because of this site's robots.txt" - thus - if you found the project - CONGRATULATIONS!!
Looking for grass species, grasses, indigenous grass, indigenous grasses, alien grass, alien grasses, invasive grass, invasive grasses,
Exploring Cape Town, Cape Peninsula, Table Mountain, TMNP, Cape Point, Cape of Good Hope, Silvermine, Constantiaberg, Devil's Peak, Signal Hill
29 Jan 2015
Lee Jones
Main navigation