Alien Fabaceae of Southern Africa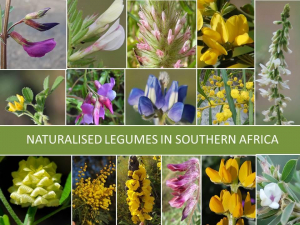 Alien Fabaceae of Southern Africa - Southern Africa : The idea of this project is to focus interest on the invasive and potentially invasive introduced legumes in Southern Africa and to encourage ispotters to add their observations. These may have been introduced accidentally (e.g., Sesbania punicea - Rattl
The idea of this project is to focus interest on the invasive and potentially invasive introduced legumes in Southern Africa and to encourage ispotters to add their observations. These may have been introduced accidentally (e.g., Sesbania punicea - Rattlepod - via ballast), or purposely such as Black Wattle (tanning industry), Lupinus ( cover crop) and Prosopis (fodder plant). Some introduced legumes are not very bothersome yet (Vicia, Medicago) and some are just beginning to shift from occasional ruderals to invaders (Genista).

Because these invasive species can produce their own nitrogen and have few seed predators they can multiply very quickly often displacing indigenous legume species. As a weed class they are a serious threat to Southern Africa's unique flora.

If you think some legume is a weed upload it and add the tags: Alien, Alien Early Detection and Rapid Response.
29 Dec 2014
Charles Stirton
Main navigation