Tortoise and Spiny Leaf Beetles -- Cassidinae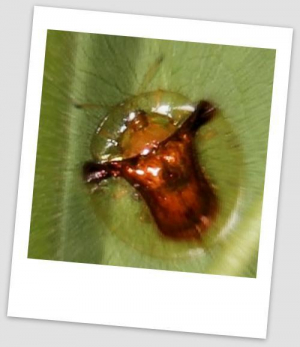 Tortoise and Spiny Leaf Beetles -- Cassidinae - Southern Africa : T E M P O R A R Y N O T I C E Dear Hugh, Please have a look at this Laccoptera: http://www.ispotnature.org/node/751850. Thanks, Riaan This is a

T E M P O R A R Y N O T I C E
Dear Hugh,
Please have a look at this Laccoptera: http://www.ispotnature.org/node/751850.
Thanks, Riaan

This is a compilation of the Tortoise Leaf Beetles and the Spiny Leaf Beetles -- together the subfamily Cassidinae -- on iSpot in southern and south-central Africa. Cassidinae is one of the ten subfamilies of the great and diverse family Chrysomelidae (Leaf Beetles) that occur in our region.

Two rather different morphologies are grouped in the Cassidinae: the common names are explanatory: Tortoise Beetles and Spiny Leaf Beetles (although many of the latter lack spines).

In old classifications, the Spiny Leaf Beetles were considered a separate subfamily, the Hispinae. It has however been conclusively shown that the "Hispinae" are a subset of the Cassidinae, into which they were subsumed. They belong to a number of separate lineages, treated as tribes.

The "true" Cassidinae, i.e. the Tortoise Beetles, was in old classifications considered separate from the old "Hispinae". Evidence has been found that the Tortoise Beetles themselves also belong to a number of different lineages, also treated as tribes.

Southern Africa is not only home to a diversity of Tortoise Beetles, but also home to a Tortoise Beetle expert, who happens to be our iSpotting friend who goes by the interesting nom de plume kotuku. This project will help him to quickly zoom in on the beetles of his heart, although he is quite knowledgeable about many other taxa and topics as well.

Thank you, Hugh.

For the Thumbnail Gallery View click ►► HERE ◄◄
For the Detailed List View click ►► HERE ◄◄
For the Interactive Map View click ►► HERE ◄◄
21 Dec 2014
Riaan Stals
Main navigation