Kenilworth Racecourse Conservation Area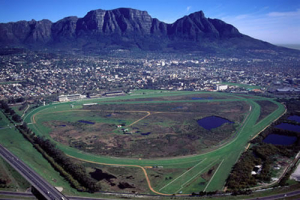 Kenilworth Racecourse Conservation Area - Southern Africa : Caring for a Gem within suburbia. Kenilworth Racecourse Conservation Area is situated within the Cape Town urban area on the Peninsula lowlands harbouring the critically endangered Cape Acid Sand Plain Fynbos. With less than 14% of this vegetation typ
Caring for a Gem within suburbia.
Kenilworth Racecourse Conservation Area is situated within the Cape Town urban area on the Peninsula lowlands harbouring the critically endangered Cape Acid Sand Plain Fynbos. With less than 14% of this vegetation type surviving, and only about 1% formally conserved, the KRCA is regarded as one of the most pristine examples remaining. For well over 100 years it has remained relatively undisturbed due to the establishment of the racecourse in 1882 which fortuitously resulted in the isolation and preservation of the natural veld within the oval, being an area of some 52 hectares
The KRCA is home to over 310 indigenous plant species, including one endemic and at least 34 that are threatened with extinction. Apart from the botanical richness, it is also of significant faunal importance with an astonishing 11 amphibian and 17 reptilian species recorded in addition to many small mammals. Approximately 80 bird species frequent the reserve. To date, the entomological diversity has not been studied in any detail, but without doubt it too is very interesting.
10 Dec 2014
Margaretacea
Main navigation