Fabaceae of Southern Africa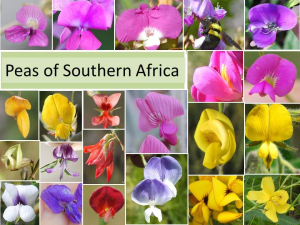 Fabaceae of Southern Africa - Southern Africa : The Flora of Southern Africa is very rich in legumes. Countries included in this Project include Botswana, Lesotho, Mozambique, Namibia, South Africa, Swaziland and Zimbabwe. The core of the region is South Africa which has the most species of legumes. O
The Flora of Southern Africa is very rich in legumes. Countries included in this Project include Botswana, Lesotho, Mozambique, Namibia, South Africa, Swaziland and Zimbabwe. The core of the region is South Africa which has the most species of legumes. Of particular interest to this project is that the region as a whole traverses a wide range of biomes including temperate and subtropical forests, grasslands, savannahs, fynbos, succulent karoo and deserts. Different countries and subsets of countires are noted for their disinctive arrays of endemic species, endemic genera and the dominance of certain Tribes. Some genera are widespread across the region (e.g., Indigofera), others mainly restricted to certain parts of countries (e.g., Aspalathus in the Cape region of South Africa (See that Mapping project), or parts of certain subsets of countries (e.g., Millettieae).

This project is aimed at developing a broader understanding of the range and diversity of Legumes in Southern Africa, their biological interactions with other organisms, and their occurence across different biomes. My own specific interest is to develop a Handbook of Legumes initially for the Cape region (All the Cape Provinces of South Africa).

Tips about taking pea photos that enhance your chance of getting an accurate identification:

Basically these are the key pictures needed:

1. Habit of plant
2. A flowering or fruiting shoot showing flowers and fruits or both in the aggregate.
3. A close-up of leaves: ideally showing the stipules (if any) as many keys use this feature.
4. A side, bottom and top view of a DETACHED flower (in your palm). The side view is the most important but others VIP for some genera, e.g., in Podalyria (Large pink flowers) and Cyclopia (yellow flowers) it is critical to see the flower bracts and bracteoles (if present or absent) and their position and length relative to the flower.
4. Fruits: photograph them side on if they are available.
5. Habitat photos provide population and association information as context and are also very helpful.

These few photos really make it easy to name the peas. For examples do a search on any of my or Nicky's legume onbservations. Just type Nicky Fabaceae or Charles Stirton Fabaceae.
06 Dec 2014
Charles Stirton
Main navigation