Chironia jasminoides leaves, Cape Point - 2009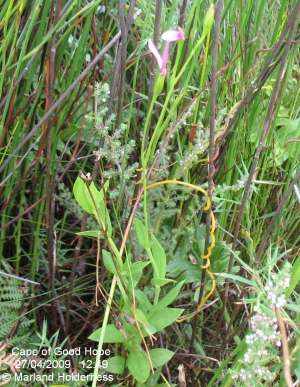 Observation - Chironia jasminoides leaves, Cape Point - 2009 - Southern Africa. Description: Pity about the flower, but the month of April is past the flowering season. However the leaves fit t
Pity about the flower, but the month of April is past the flowering season.
However the leaves fit the description in the JSTOR entry from Flora Capensis, Vol 4, page 1056, (1909) Author: By A. W. HILLand D. PRAIN
'Remotely leafy, especially below,..... lower leaves ovate-lanceolate or lanceolate, subacute or acute, rarely ovate, subobtuse, '
'upper lanceolate, acute or acuminate, glaucous when young on both sides, persistently so beneath;'
https://plants.jstor.org/compilation/chironia.jasminoides
.
A range of interesting other species in the shot - ferns and bracken(?),
Erica parviflora
.. and
Cassytha ciliolata. which I'll link as interaction/associated with. .
Main navigation