Arctotis, Cape Point - 2006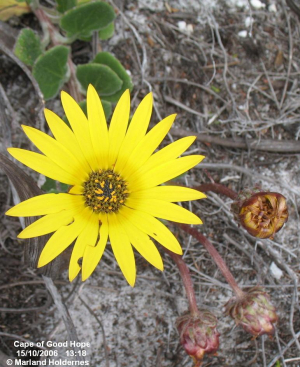 Observation - Arctotis, Cape Point - 2006 - Southern Africa. Description: Quick shot taken on a walk to Brightwater with The Friends Monitoring plants at the Cape of Good H
Quick shot taken on a walk to Brightwater with "The Friends"
Monitoring plants at the Cape of Good Hope, using old species lists as our guide as well as Deon Kesting's list.
Refs were mainly Mary Maytham Kidd and Cape Plants.(2000). In this instance we checked against Cape Plants (2000)
South African endemic. distribution - Western Cape
In the Red List 2005/05/05 - it was assessed as Critically Endangered, New Red list pending.
Main navigation