Amazing fruit mechanism, N7 to Kamieskroon - 2012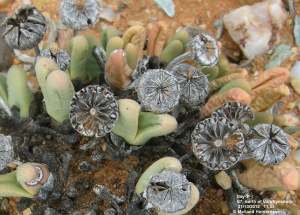 Observation - Amazing fruit mechanism, N7 to Kamieskroon - 2012 - Southern Africa. Description: It's been such fun finding out about the biodiversity of this area and the way the plants have adapt
It's been such fun finding out about the biodiversity of this area and the way the plants have adapted.
See this: "Most Mesembryanthema and some other members of the Aizoaceae have hygrochastic capsules which open when moistened, releasing a portion of the seeds in rain. The mechanism of seed expulsion varies within the group depending on differences in morphological and anatomical details of the inner construction of the capsules." Free download:
https://www.sciencedirect.com/science/article/pii/S0367253017300609
This one's a bit heavy - but the abstract is worth reading : JOURNAL ARTICLE Evolutionary Radiation of "Stone Plants" in the Genus Argyroderma (Aizoaceae): Unraveling the Effects of Landscape, Habitat, and Flowering Time.
If I have this correct, the Namaqualand Guide says: "Found among white quartz pebbles on the Knersvlakte". See these pebbles in the pictures,
Main navigation