Aspalathus capensis, Cape Point - 2010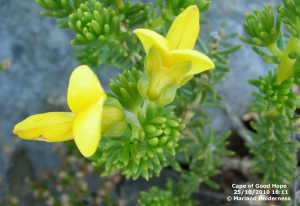 Observation - Aspalathus capensis, Cape Point - 2010 - Southern Africa. Description: Learned a new term tomentulose minutely or slightly tomentose (Merriam-Webster) so covered with d
Learned a new term "tomentulose" minutely or slightly tomentose (Merriam-Webster) so "covered with densely matted woolly hairs"
In the close-ups see the white woolly hairs as described here
https://plants.jstor.org/compilation/aspalathus.capensis
"Pedicel 4-10 mm, tomentulose"
Monitoring plants at the Cape of Good Hope, using old species lists as our guide as well as Deon Kesting's list.
Refs were mainly Mary Maytham Kidd and Cape Plants.(2000)
A little insect, possibly a beetle visiting the flower.
Main navigation