Reposting Lessertia frutescens, Cape Point - 2003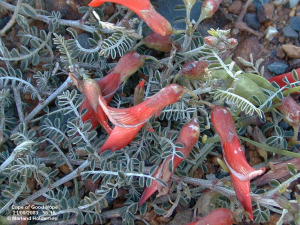 Observation - Reposting Lessertia frutescens, Cape Point - 2003 - Southern Africa. Description: Originally added 4 September 2011 as Balloon Pea (Lessertia frutescens) With notes: I returned to ch
Originally added 4 September 2011 as Balloon Pea (Lessertia frutescens)
With notes: I returned to check the seed pods and they were inflated, hairless and papery.
ID agreements : 4 People Tony Rebelo; Nicky vB; outramps; _Jeff
Everything points to this being Lessertia frutescens, but these plants never grow off the ground - a low sprawling shrublet.
Follow-up confirms this.
2018 - added tag "myCP"
* Linking to other obs still not working - probably because of the weight of agreements - so am deleting and reposting
* Very informative text:
http://pza.sanbi.org/lessertia-frutescens
Main navigation