Aristea with blue eye - Vergelegen (see more pics)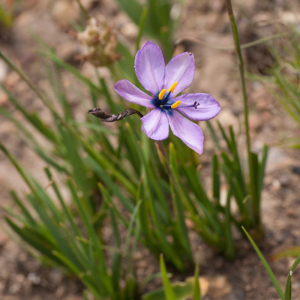 Observation - Aristea with blue eye - Vergelegen (see more pics) - Southern Africa. Description: Flower stem about 12 cm and flower 25 mm across, flat and narrow leaves shorter than flower stem. Le
Flower stem about 12 cm and flower 25 mm across, flat and narrow leaves shorter than flower stem. Leaves looked as if they had been browsed.
I saw only two plants in this area, a northwest facing slope and none on the rest of the walk. Veld burned January 2017.
Cape Plants lists only this species as having the dark blue eye but the flowers were smaller than A. cantharophila we saw elsewhere.
Klaus Wehrlin posted a similar plant here -
https://www.ispotnature.org/communities/southern-africa/view/observation/741745/aristea-cantharophila
A. cantharaphila is redlisted as Vulnerable.
Threats: Alien invasive species
Main navigation