Kleinmond Protea notlappet, reared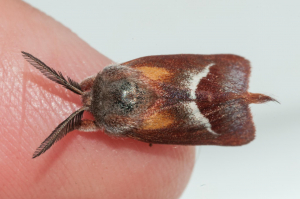 Observation - Kleinmond Protea notlappet, reared - Southern Africa. Description: 3 August 2017: Collected caterpillar on Protea leaf along footpath from Kleinmond golfcourse to old
3 August 2017: Collected caterpillar on Protea leaf along footpath from Kleinmond golfcourse to old waterworks. I was not sure if this was Protea repens or Protea longifolia so I provided leaves from both, and the caterpillar ate both.
*
20 August 2017: The caterpillar started cocooning.
*
23 August 2017: Pupated.
*
9 September 2017: Adult moth emerged.
Main navigation