Pringle Bay ambush bug with eggs, currently being reared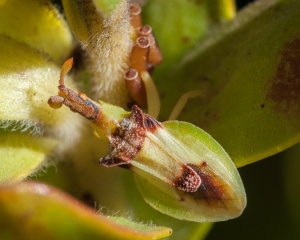 Observation - Pringle Bay ambush bug with eggs, currently being reared - Southern Africa. Description: After once taking only a few bad pictures of one of these and then letting it go I've always been on
After once taking only a few bad pictures of one of these and then letting it go I've always been on the lookout for another one. Bonus, this one is sitting next to 10 eggs!
Bonus #2: the eggs hatched about 10 days later, producing 3 tiny mini-bugs so far. I have not observed them doing much else than sitting still. No signs of eating in spite of fresh twigs provided daily.
Okay, then I realised that they are not called AMBUSH bugs for nothing, no wonder they're so good at sitting still. I am now fine tuning my compost bin fly trap method - any advice would be greatly appreciated.
Main navigation