Tiny leggy flier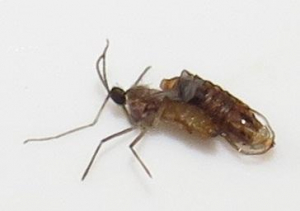 Observation - Tiny leggy flier - Southern Africa. Description: Collected the Poison Apple (Solanum panduriforme) gall on 10 September 2017. Noticed the tiny dead f
Collected the Poison Apple (Solanum panduriforme) gall on 10 September 2017.
Noticed the tiny dead fly on the bottom of the bottle on 17 September 2017.
Seems the poor puppet could not open it's wings and got stuck.
Opening the gall, I discovered many more larvae & pupae. Bottled the gall again and the 2 pupae separate.
.
Main navigation