Green Tortoise Beetle, the final chapter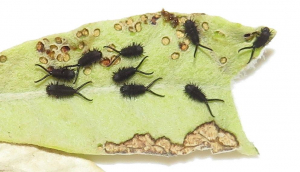 Observation - Green Tortoise Beetle, the final chapter - Southern Africa. Description: 19 tiny black larvae observed on 12 September 2017. Observed a tiny, freshly emerged black larva wit
19 tiny black larvae observed on 12 September 2017.
Observed a tiny, freshly emerged black larva with light tail early on 13 September.
The tail color changed to black in a few minutes and the larva started to move around.
Another 2 oothecae was deposited during the past 24 hours.
Time to release this flourishing beetle community.
Main navigation