Chapter 1 Eggs to Larvae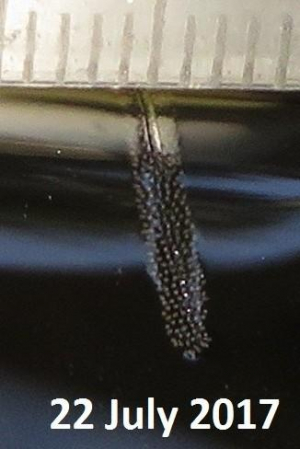 Observation - Chapter 1 Eggs to Larvae - Southern Africa. Description: Noticed the eggs on 22 July 2017 and moved into a bottle. By 26 July 2017 the tiny-tiny hatchlings
Noticed the eggs on 22 July 2017 and moved into a bottle.
By 26 July 2017 the tiny-tiny hatchlings were swimming with a "hammer-action" resembling that of Mosquito larvae.
I added more water from the rain water bucket, but it seemed the larvae were growing very slowly and many died.
On 12 August 2017 there were larvae looking like Mosquito larvae and 2 little Bloodworms. I suspect these were introduced into the bottle when I added the water from the rain water bucket. Bloodworms posted:
www.ispotnature.org/communities/southern-africa/view/observation/738685/2-tiny-bloodworms
Main navigation