Geissorhiza namaquamontana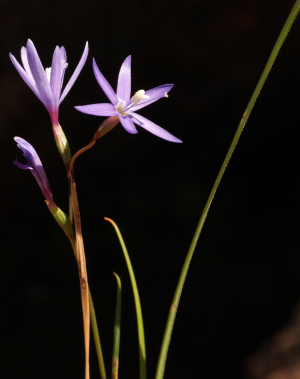 Observation - Geissorhiza namaquamontana - Southern Africa. Description: Newly described (SA J Botany 2017, 111; pp 299-301), based on this specimen; fairly common from 700-860m on steep s and se facing rocky slopes; in seasonally damp soils and moss pads, to 25cm; only known from 3 collections - here, nr Leliefentein and on t
Newly described (SA J Botany 2017, 111; pp 299-301), based on this specimen; fairly common from 700-860m on steep s and se facing rocky slopes; in seasonally damp soils and moss pads, to 25cm; only known from 3 collections - here, nr Leliefentein and on the Rooiberg, so yet another Kamiesberg endemic (about 60 now, with another 70 being near endemics!). Should probably be Redlisted as Rare.

From the paper: "This has led us to revise the concept of G. namaquensis, which we now restrict to taller plants up to 300 mm tall, with comparatively larger flowers with tepals
14–18 × ±4 mm and anthers 4.5–5.5 mm long. The shorter plants from the Kamiesberg and Grootberg, 80–160(–250)mm tall, with smaller flowers with tepals 8–10 ×±2mm and anthers 2–3mm long, are described as the new species Geissorhiza namaquamontana."
Main navigation