An excellent first summer ends in abrupt tragedy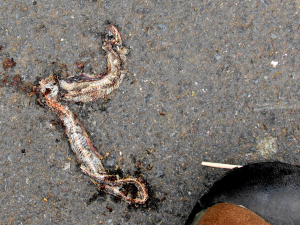 Observation - An excellent first summer ends in abrupt tragedy - Southern Africa. Description: I assumed a baby Night Adder - fat, hint of bold black V behind head. But on closer examination I think the surviving dark scales are on the head, not the neck. Not there the morning before, amazing how quickly the ants can strip a small carcass. Per
I assumed a baby Night Adder - fat, hint of bold black "V" behind head. But on closer examination I think the surviving dark scales are on the head, not the neck.
Not there the morning before, amazing how quickly the ants can strip a small carcass.
Per SOP, moved the unfortunate from the road surface to the verge where the ants and any other scavengers won't be continually squashed by traffic.
Main navigation