Prolific Brown Leaf Beetle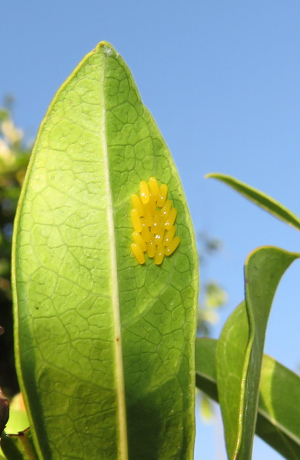 Observation - Prolific Brown Leaf Beetle - Southern Africa. Description: 3 weeks from eggs to adult. These eggs were on a leaf, in a small clump of leafs at the end of a branch and at the beginning it was easy to track the larvae, as they stayed together. At the end I could only find 1 of the larvae and do not know what happ
3 weeks from eggs to adult.
These eggs were on a leaf, in a small clump of leafs at the end of a branch and at the beginning it was easy to track the larvae, as they stayed together. At the end I could only find 1 of the larvae and do not know what happened to the rest. There are still beetles around, but no obvious eggs and larvae observed on the plant today.
16 - 20 Feb 2017: No pictures due to wet weather.
26 & 27 Feb 2017: No pictures - thought I lost them all. Found the last little pupa on 28 Feb 2017 and collected it.
The little pupa was very active, like a jumping been for 2 days, before it emerged early on 03 March 2017.
Main navigation