Moraea Montagu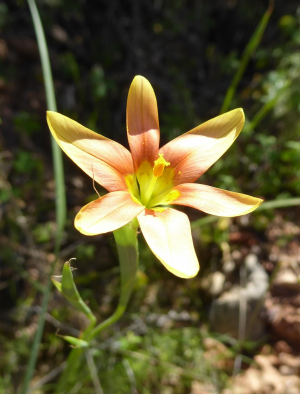 Observation - Moraea Montagu - Southern Africa. Description: See description here: http://keyserver.lucidcentral.org/weeds/data/media/Html/moraea_flaccida.htm These notes taken from the site above. Stems and Leaves The green stems are upright (i.e. erect) and sometimes slightly zig-zagging in nature. These s
See description here: http://keyserver.lucidcentral.org/weeds/data/media/Html/moraea_flaccida.htm

These notes taken from the site above.
Stems and Leaves

The green stems are upright (i.e. erect) and sometimes slightly zig-zagging in nature. These stems are rounded, hairless (i.e. glabrous), and produce a few branches near the top of the plant.

There is usually only one large leaf per plant, and this leaf sheaths the lower part of the stem. It is strap-like (i.e. linear), hairless (i.e. glabrous), slightly ribbed and folded when young (up to 1 m long and 6-20 mm wide). There are also some smaller leafy bracts (2-6 cm long) towards the top of the stems.

Flowers and Fruit

The flowers (3-8 cm across) are borne at the tips of the branches and have six elongated 'petals' (i.e. tepals or perianth segments) 25-40 mm long. They are usually orange or salmon pink in colour with a yellow centre, but they can occasionally be entirely yellow with a slightly darker centre. At the base of each flower are two elongated green floral bracts (3-8 cm long) which may be mistaken for sepals. Each flower also has three stamens with yellow anthers (8-11 mm long) and an ovary topped with a three-branched style. Flowering occurs mostly during late winter and early spring (i.e. from August to October).

The fruit is a green capsule that turns brown in colour as it matures. This capsule is elongated in shape (25-55 mm long), has a short projection (i.e. beak) at its tip (2-3 mm long), and contains up to 150 small seeds. The seeds are brown in colour and irregularly shaped (about 2 mm long) with slightly winged margins.
Main navigation