Calling all rangeland ecologists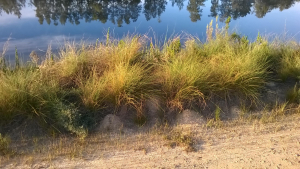 Observation - Calling all rangeland ecologists - Southern Africa. Description: Please ID this grass that grows abundantly in uncultivated areas. Strong root system. Very dense growth at its base. Overwintering spot for lizards and trimmed by rodents, it seems.
Help save this Renosterveld grass (if it is grass, and does in fact grow in Renosterveld and if it is worthy to be saved) by assisting me to identify it. In return I will study its attributes and embark on a journey to prove the economic benefits of indigenous forage for indigenous breeds of livestock, as opposed to cultivation, spraying, fertilizing and feeding livestock.
Main navigation