Zaluzianskya and COMPANY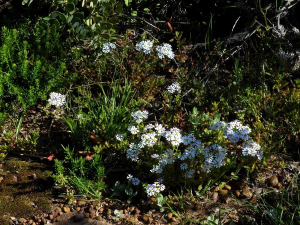 Observation - Zaluzianskya and COMPANY - Southern Africa. Description: On the path from Cape Point to the Cape of Good Hope. The first img is the general photo, with flowers of Zaluzianskya villosa, Scrophulariaceae. All the other images are crops of the first; they show leaves of many other plants, which I would like to id
On the path from Cape Point to the Cape of Good Hope. The first img is the general photo, with flowers of Zaluzianskya villosa, Scrophulariaceae.
All the other images are crops of the first; they show leaves of many other plants, which I would like to identify, as far as possible.
Below I'll add my guesses about them.
Main navigation