Moraea radians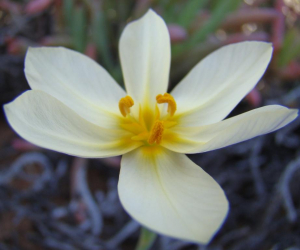 Observation - Moraea radians - Southern Africa. Description: 15 plants observed in an area of about 100 square meters. Mostly on their own, 10-20m apart, although 1 group of 4 plants was seen. Flowers on average 30-40cm above the ground. Very long thin leaves, about 40cm long but starting a way up the stem so that
15 plants observed in an area of about 100 square meters. Mostly on their own, 10-20m apart, although 1 group of 4 plants was seen. Flowers on average 30-40cm above the ground. Very long thin leaves, about 40cm long but starting a way up the stem so that the leaf reaches up to 50-60cm off the ground. In silty clay soil in a flat basin area between surrounding koppies. Flowers cream-coloured with yellow/orange in the center.
Surrounding vegetation generally: Renosterbos, Pteronia, Galenia, Vygies, some grass and other plants
About 260m asl.
Red-listed as Endangered.
Threats minimal in this particular area as the landowner is keen to preserve the natural habitat.
Main navigation