Ground Protea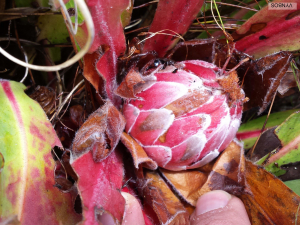 Observation - Ground Protea - Southern Africa. Description:
Threats: Few as they are in a nature reserve. Alien vegetation currently not in the area, though there are pines and hakea to the west in Lourensford and escaped pines to the east above the old plantations of Nuweberg.
Number of plants: Abundant in the area between the top of Swartboskloof and Sneeukop. Approx 300 visible without leaving the path.
Main navigation