Aethaloptera cf. dispar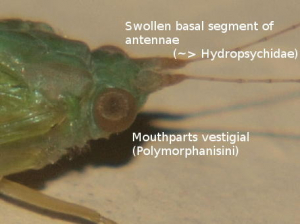 Observation - Aethaloptera cf. dispar - Southern Africa. Description: References are Barnard (1980) (from page 59 of Bulletin of the British Museum of Natural History, vol 41 (2)) and http://trichoptera.insects-online.de/ Swollen antennal bases point to Hydropsychidae (as does general form). Lack of functional mouthp
References are Barnard (1980) (from page 59 of Bulletin of the British Museum of Natural History, vol 41 (2)) and http://trichoptera.insects-online.de/

Swollen antennal bases point to Hydropsychidae (as does general form).

Lack of functional mouthparts puts it in tribe Polymorphanisini. 2 Genera in the region; Polymorphanisus and Aethaloptera.

Presence of false discal cell (and absence of actual one) put it in Aethaloptera. 2 described species in region, A. dispar and A. maxima; both occur in Zambia.

Sessile (not stalked) junction of M3+4 would put this is M. dispar, but as far as I can tell, A. dispar usually has M3 and M4 arising from the same point on the (cubital?) cell; whereas here they are clearly separated; the junction between R4+5 and R2+3 is also a little off; so...
Main navigation