Two-spot Caddis - Polymorphanisus bipunctatus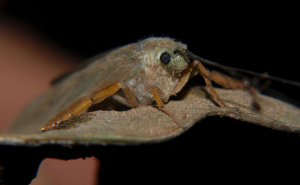 Observation - Two-spot Caddis - Polymorphanisus bipunctatus - Southern Africa. Description: Per Barnard's 1980 'A revision of the Old World Polymorphanisini (Trichoptera: Hydropsychidae)' (Starts on p. 59 of vol 41 of the Bulletin of the British Museum of Natural History, Entomology series): Polymorphanisini identifiable among Hydropsychidae
Per Barnard's 1980 'A revision of the Old World Polymorphanisini (Trichoptera: Hydropsychidae)' (Starts on p. 59 of vol 41 of the Bulletin of the British Museum of Natural History, Entomology series):

Polymorphanisini identifiable among Hydropsychidae for absence of mouthparts (massive reduction, as opposed to entire absence, if we're going by his drawings).

Among the Old-World genera, Polymorphanisus is recogniseable for absence of small, false discal cell (present in Aethaloptera) and the presence of a true Discal cell (absent in Oestropsyche) in the fore-wings.

This should be female, I think, so we cannot rule out the 'ocularis' group by the wide ventral gap between the eyes, but the direct continuation of m1+m2 into m2 (as opposed to m1 being a direct continuation thereof) puts this comfortably in the nigricornis group. (labelled left forewing is included for your ease of use).

Within the nigricornis group, there are 4 african species: P. hargreavesi, P. marlieri, P. bipunctatus and P. elisabethae.

P. hargreavesi and P. marlieri have unmarked thoraces.

P. elisabethae has a marked thorax, but pale/yellow antennae.

P. bipunctatus has marked thorax and brown (in male) or black (in female) antennae.

P. bipunctatus is widely recorded in Southern and East Africa, and although it is not currently recorded from Zambia, it is recorded from locations in Zimbabwe that are vanishingly close to the border.

So I'm happy with this.

Also - Key to families of Trichoptera at http://trichoptera.insects-online.de/Trichoptera%20africana/Key%20afrotropica%20families.htm (which incorporates many of the figures from Barnard). With this tribe, it falls down around couplet 3 because Polymorphanisus - like the rest of the Hydropsychidae - has no ocelli, and its mouthparts are too reduced for you to tell that there are supposed to be 5 segments (unlike all Hydropsychidae outside of Polymorphanisini).
Main navigation