Kleinmond Flannel #8 reared = my first male flannel ever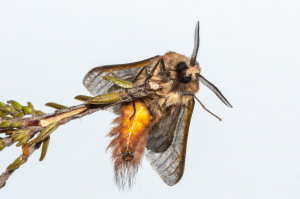 Observation - Kleinmond Flannel #8 reared = my first male flannel ever - Southern Africa. Description: 5 Jun 2016: Collected caterpillar on small Restio, along contour path above Kleinmond. 10 Jun 2016: Caterpillar started wandering around the bottom of its tub, and digging into the sandy soil layer provided. 18 Jun 2016: A
5 Jun 2016:
Collected caterpillar on small Restio, along contour path above Kleinmond.

10 Jun 2016:
Caterpillar started wandering around the bottom of its tub, and digging into the sandy soil layer provided.

18 Jun 2016:
After a week of wandering and digging it finally spun a cocoon, unusually incorporating some bits of foodplant on top of its soil instead of disappearing into the soil.

5 Sep 2016:
Adult moth emerged. This is my first ever male of this species, and exciting for me because according to Henk Geertsema these males are very rare.
Main navigation