Kleinmond fat Psoralea eater reared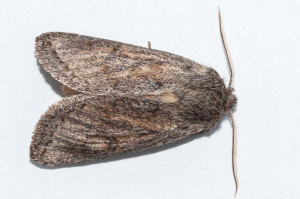 Observation - Kleinmond fat Psoralea eater reared - Southern Africa. Description: 28 Aug 2016: Collected large individual of previously failed caterpillar on Psoralea aculeata next to footpath on the circle walk above Palmiet bridge. 31 Aug 2016: The caterpillar
28 Aug 2016:
Collected large individual of previously failed caterpillar on Psoralea aculeata next to footpath on the circle walk above Palmiet bridge.

31 Aug 2016:
The caterpillar stopped eating and started wandering around its tub.

1 Sep 2016:
When I provided soil from the caterpillar's collection site it immediately disappeared into it.

10 Jan 2017:
Adult moth emerged, surprisingly small and drab after such a jolly fat caterpillar. Only goes to show... something.
Main navigation