Insidious tree/shrub (Belhambra (Phytolacca dioica))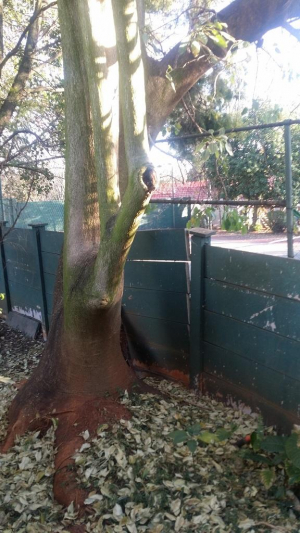 Observation - Insidious tree/shrub (Belhambra (Phytolacca dioica)) - Southern Africa. Description: The fruit of this evil beast, which resembles thin bunches of grapes, were clogging up my pool cleaner and the roots / trunk are lifting a pre-fab wall and have collapsed a wall onto my neighbour's tennis court. Apparently this plant is extremely difficu
The fruit of this evil beast, which resembles thin bunches of grapes, were clogging up my pool cleaner and the roots / trunk are lifting a pre-fab wall and have collapsed a wall onto my neighbour's tennis court.
Apparently this plant is extremely difficult to get rid of. A tree feller told me every root has to be dug out otherwise it just grows back. From my own investigations on the web, it seems almost impossible to get rid of it any other way.
I am going to have it dismantled and bored, and will then pour pool salt into the hollowed out trunk. I am not interested in growing anything in it's place, but digging it out is going to be very costly given its size.
Main navigation