Cyclopia (PE)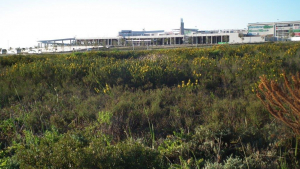 Observation - Cyclopia (PE) - Southern Africa. Description: Revisit a year later. Glad they holding out amidst the construction. Threats At least 80% of this species' habitat is already transformed as a result of urban expansion, agriculture and alien plant invasion. Further urban expansion threatens at least
Revisit a year later.
Glad they holding out amidst the construction.

Threats
At least 80% of this species' habitat is already transformed as a result of urban expansion, agriculture and alien plant invasion. Further urban expansion threatens at least two remaining sub-populations, and alien invasive plants are present at three. Plants are also damaged by Vlei Rats, which is causing a decline in small sub-populations. Mowing has also damaged one sub-population.

Population trend Decreasing
http://redlist.sanbi.org/species.php?species=439-44
Main navigation