Kleinmond thistle worm #3 failed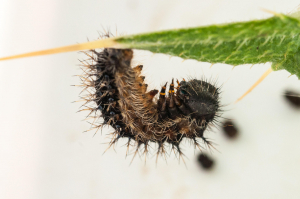 Observation - Kleinmond thistle worm #3 failed - Southern Africa. Description: 6 Nov 2015: Collected a third caterpillar along with spiny thistle foodplant. Caterpillars operated within loose purses spun among the extremely spiny thistle leaves, which quickly filled with black frass and eventually became too small. In capti
6 Nov 2015:
Collected a third caterpillar along with spiny thistle foodplant. Caterpillars operated within loose purses spun among the extremely spiny thistle leaves, which quickly filled with black frass and eventually became too small. In captivity the caterpillars happily moved onto fresh food plant and sometimes created new feeding pockets, often not.

16 Nov 2015:
Thistle worm #3 pupated.

26 Nov 2015:
Adult butterfly started to emerge but failed and eventually died.
Main navigation