Limestone Aspalathus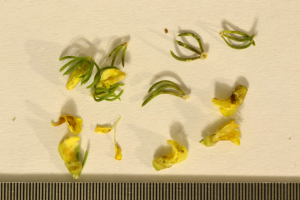 Observation - Limestone Aspalathus - Southern Africa. Description: Short, spreading shrub. Shoots with many flowers, but flowers singular on short shoots. Bracts very tiny, calyx lobes short, flowers very small with standard hairy on the distal part, ovary hairy, keel glabrous, and claws of petals a bit longer than limbs
Short, spreading shrub. Shoots with many flowers, but flowers singular on short shoots. Bracts very tiny, calyx lobes short, flowers very small with standard hairy on the distal part, ovary hairy, keel glabrous, and claws of petals a bit longer than limbs.

Growing on limestone outcrop.

Sorry I did not get more photos.
Main navigation