Hanneshoek stokkiesbag reared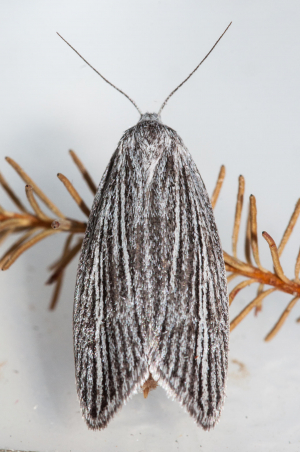 Observation - Hanneshoek stokkiesbag reared - Southern Africa. Description: 9 Dec 2015: Collected familiar bagworm larva on Phylica sp at Hanneshoek near Kleinmond's golfcourse. I'm very curious to find out if these apparently common little twigbags made from restio bits are all just one species. Unfortunately I was too
9 Dec 2015:
Collected familiar bagworm larva on Phylica sp at Hanneshoek near Kleinmond's golfcourse. I'm very curious to find out if these apparently common little twigbags made from restio bits are all just one species. Unfortunately I was too late to collect more than one individual this summer, but as they are often seen in local fynbos on a variety of host plants I'm hoping to learn all about them next year.

22 Dec 2015:
The caterpillar has been moving about and ate some of the food plant I provided, but now I am confident that it must have pupated as it is not moving anymore.

31 Mar 2016:
A perfect adult emerged, against all my expectations (bagworms are difficult because it's impossible to check progress when you can't see what's going on in there). I think this is now my favourite moth ever.
Main navigation